📰
Editor's note: This article by Victoria Coates, based on our polling, appeared on the
19fortyfive.com
website.
Washington's insistence on spending far more money than it takes in means federal spending will soon hit the debt ceiling—the statutory limit on how much money the U.S. government can borrow. Congressional negotiations over federal spending will intensify as that limit draws closer.
Ultimately, lawmakers will have to raise the debt ceiling to avoid a default. But simply raising the debt ceiling without addressing the reasons why the government keeps plunging deeper and deeper into red ink will only further endanger the nation's long-term fiscal health.
According to recent TIPP polling, Americans are tracking the spending debate closely—and not just due to economic concerns. Many also worry that reckless federal spending and the debt it creates up could threaten our national security.
U.S. Spending Threatens National Security
Spending and debt have not traditionally been part of the national security portfolio. The longstanding view has been that Republicans favor unfettered spending on defense, while Democrats favor unfettered spending on domestic programs, and that any proposed cuts will have to impact both equally. But new polling suggests that, while partisan divides remain, the rising threat from the People's Republic of China is making more and more Americans in both parties increasingly uneasy with Washington's spending levels.
When presented with the statement "I believe excessive government spending undermines U.S. national security," three times as many respondents agreed as disagreed. Those agreeing also felt more strongly on the issue: 31 percent agreed strongly (with 32 percent agreeing somewhat) while only 6 percent disagreed strongly. Another 15 percent disagreed somewhat, with the remaining 16 percent were "unsure."
Somewhat surprisingly, the partisan divide is not as stark as might be imagined.  Republicans responded most strongly with 80 percent somewhat or strongly agreeing. But, majorities of both Democrats (58 percent) and Independents (58 percent) also concurred. Majority agreement also prevailed across genders and ethnic groups, with 68 percent of male, 60 percent of female, 66 percent of white, and 62 percent of black/Hispanic respondents agreeing with the statement.
The survey also asked respondents the extent to which they agreed or disagreed with this statement: "I believe excessive federal government spending on non-defense programs will undermine America's ability to effectively counter the People's Republic of China."
A majority (59 percent) agreed: 27 percent strongly and 32 percent somewhat. Only a quarter of the respondents disagreed: 15 percent somewhat and only 10 percent strongly. This query revealed a stronger partisan divide. Among Republicans, 72 percent agreed and only 17 percent disagreed. Democrats were much more evenly divided, with 56 percent agreeing and 30 percent disagreeing. Among Independents, 53 percent agreed and 24 percent disagreed.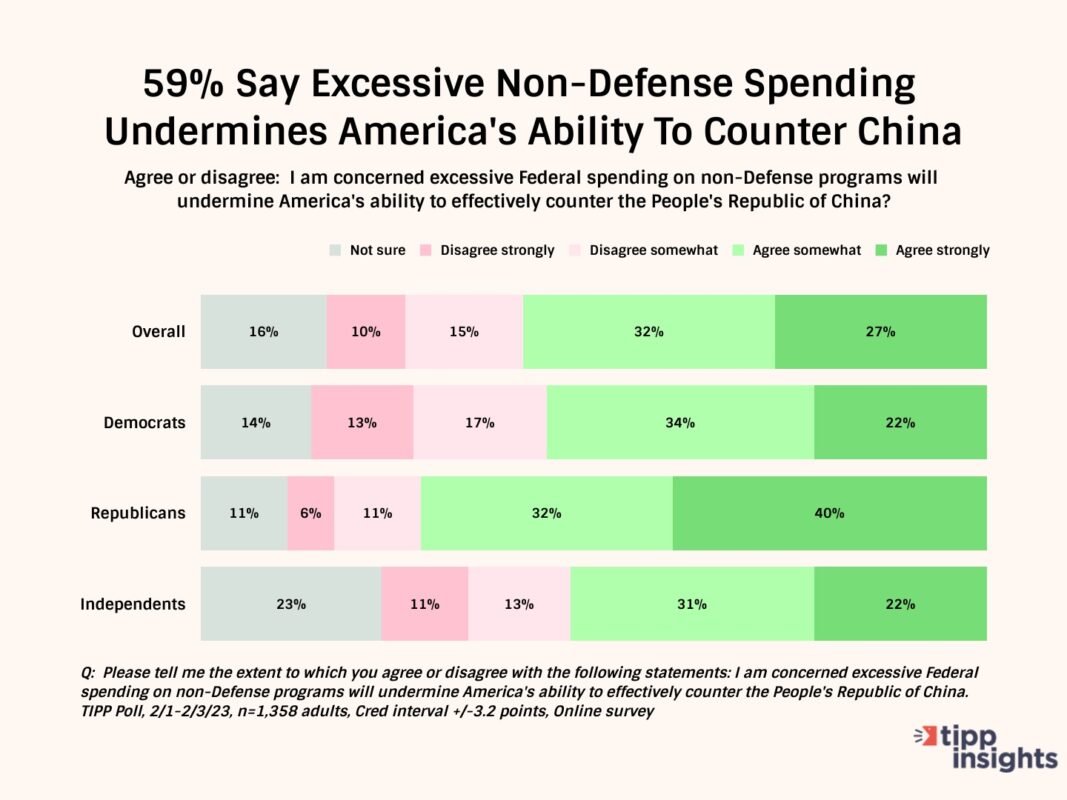 The survey was conducted before the incident with the Chinese surveillance balloon traversed the continental United States. It will be interesting to see if that episode, along with Beijing's apparently escalating support for Russia's war effort in Ukraine, moves these numbers in coming months.
The final question asked how strongly respondents agreed or disagreed with the following statement: "I support capping defense spending at 2022 levels in exchange for cuts to domestic spending." This query gets to the heart of whether Republicans would consider any sort of cap of defense (given that the 2022 number was established in December of last year) and/or if Democrats have any interest in cutting discretionary domestic spending.
Overall, a majority agreed: 20 percent strongly and 27 percent somewhat. Roughly a quarter did not: 16 percent disagreed somewhat and 12 percent disagreed strongly.  Most Democrats supported the statement (56 percent v. 23 percent disagreeing). A plurality of Republicans agreed (40 percent v. 39 percent), as did a plurality of Independents (40 percent v. 29 percent).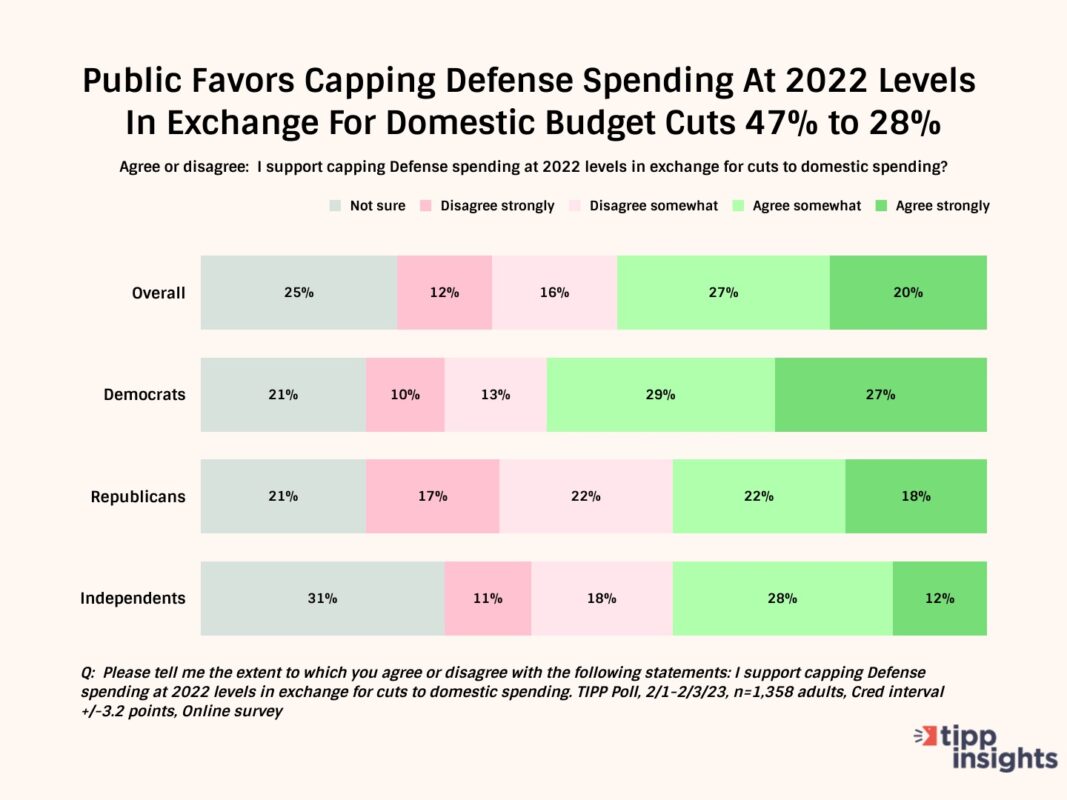 The "don't know" response for Independents, at 31 percent, was the highest of the survey, suggesting that both sides might do well do conduct some outreach on this topic. Also, a stronger Republican objection to capping defense might have been expected, while the number of Democrats open to cutting domestic spending should raise some eyebrows. Of course, this poll did not address what specific domestic discretionary spending might be cut, so responses could change dramatically if favored programs are on the table.
There is a sense in Washington, D.C., that raising the debt ceiling is a largely administrative exercise that happens routinely. But this polling indicates that the American people see it differently, that many now regard unfettered federal spending as a significant threat to national security interests.
Among the general public, the traditional party line stances seem to be shifting. This suggests that a substantive deal on the debt ceiling—one that reduces excessive spending while preserve defense outlays at a reasonable level—would be broadly acceptable to the American people. The big question is: Does Congress and the White House have the will to negotiate such a deal.
Victoria Coates is an academic and policymaker with senior experience across the U.S. government in the Congress, White House, and Department of Energy who is a senior fellow in international relations and national security at Heritage's Margaret Thatcher Center for Freedom. She focuses on the Middle East and North Africa, U.S. energy security and strategy, and countering the threat from the People's Republic of China.
Original article link
Hey, want to dig deeper? Download data from our store for a small fee!
Comments